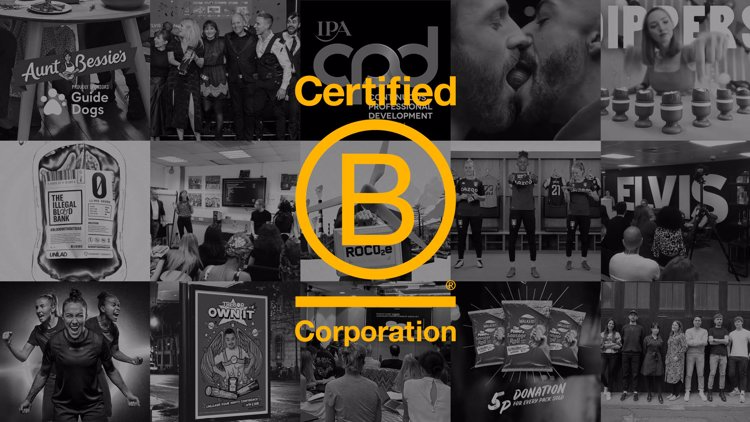 ELVIS achieves B Corp certification and calls on other agencies to start the process now
ELVIS has announced that it has achieved B Corp certification, following a two-year journey which has seen it completely reinvent its business. The certification represents a major stride forward in the agency's ongoing mission to help people and brands grow in a better way.
ELVIS becomes one of only three creative agencies featured in Campaign's latest School Reports to achieve the certification.
Since kicking off the process in 2020, ELVIS has focussed on adopting best practices across B Corp's five core areas: Governance, Workers, Community, Environment and Customers.
The agency has introduced a number of new measures and initiatives as part of its B Corp journey, including Greenhouse Gas Emission monitoring, reporting and target setting; the incorporation of environmental impact into decision-making; supply chain transparency; a commitment to regular volunteering; supercharged employee benefits; new training opportunities for staff and new hiring policies to drive diversity.
B Corp awarded ELVIS a score of 91.5, compared to a minimum certification score of 80. The organisation cited ELVIS' multi-award-winning The Illegal Blood Bank work for UNILAD, which ultimately helped to bring about a change in the law around blood donation by gay and bisexual men, as a key initiative demonstrating its drive to create positive change. It also recognised the influence and leadership the agency has shown at an advertising industry level, referencing its efforts to tackle the climate crisis through its work with Purpose Disruptors and initiatives such as Ecoffectiveness, the Great Reset and Advertised Emissions.
The B Corp process was spearheaded by Caroline Davison, who joined ELVIS in 2009 and took on the role of Managing Director and Sustainability Lead in 2020. Last month, Davison was named in Forbes as one of 43 people changing advertising for the climate.
The ad industry talks a lot about creating meaningful change, but that isn't always easy to quantify, especially in an era of green- and woke-washing. B Corp certification is the ultimate demonstration that your agency gets what meaningful change really looks like – it's not tweaking things around the edges or having separate committees that focus on a tiny piece of the puzzle, it's about holistic change at every level and in every part of your business. We want to call on agencies of all types and sizes to start their B Corp journey. The more agencies that become certified, the more our industry will be able to collectively move forward the fundamental conversations we need to have around what a better world looks like.
ELVIS is committed to improving on its score in the coming years, finding new ways to run its business more sustainably and ethically. It will also seek to encourage its clients to make better, more sustainable and more socially-just choices, developing new products and services to help the brands it works with to rethink their businesses in order to meet the challenges and opportunities ahead.
ELVIS has worked closely with its parent company, Next 15, which is pushing to achieve group-level B Corp certification.
Traditional agency business models are no longer fit for purpose, and it's time for change. And we have both a desire, and a responsibility, to be part of the solution rather than the problem. "This complete reinvention of our business and subsequent B Corp certification represents a huge step forward in our ongoing ambition to grow in the right way - balancing profit with people and the planet. "While we're delighted to have achieved a score of 91.5, we continue to be committed to improving on this, and making our business the best it can be.