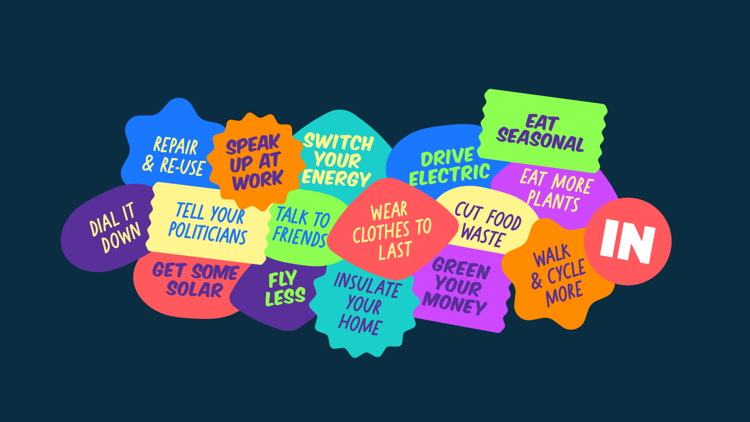 Business
Count Us In appoints elvis to develop global communications campaign to inspire one billion citizens to reduce carbon pollution
Count Us In, a partnership between TED and Leaders' Quest, which aims to accelerate solutions to the climate crisis, has appointed elvis as its creative partner on a global communications campaign. The appointment follows a three-way competitive pitch.
elvis will now work with Count Us In and its strategic partner agency Something More Near to develop a brand campaign with the objective of inspiring one billion citizens to take practical steps in order to reduce their carbon pollution. The push, which will initially go live in the UK in 2022, aims to be a lightning-rod moment that catapults Count Us In into the global public consciousness, inspired by the likes of Movember and Comic Relief.
The campaign will seek to engage with a mass, "non-activist" audience, mainly those whose decisions can make an impact but who are largely unreached by existing climate campaigns.
Launching in 2020, Count Us In offers people and partner organisations a platform where individuals, staff and communities can take one of 16 impactful steps and track their progress in addressing the climate crisis. Count Us In has previously partnered with other brands to deliver highly-targetted community campaigns, but this new push will be the first major campaign the brand has undertaken in order to drive awareness and action at scale.
Count Us In's member organisations include the EU, Tottenham Hotspur, IKEA, Accenture, the Olympics and many more.
The new engagement reflects elvis's ongoing commitment to sustainability and its efforts to help people and brands grow in a better way. The agency is currently working towards becoming a B Corp, and last year, Caroline Davison, Managing Director and Sustainability Lead, partnered with Purpose Disruptors and Ben Essen, Chief Strategy Officer at Iris, to launch Ecoffectiveness, a new measure of the carbon emissions driven by advertising.
Having seen the tangible impact that elvis have achieved with outstanding campaigns such as The Illegal Blood Bank, and the big brand experience they bring to the table, we felt they were the ideal creative partner for this huge task. We're excited to collaborate with them as we create a people-powered campaign which will inspire a mass audience to take action in order to reduce climate pollution.
Is there any more important challenge out there today? Any bigger brief with more at stake? As a marketeer, this opportunity is incredibly inspiring and exciting. As David Attenborough puts it, saving the planet is now a communications challenge, and working with Count Us In gives us a chance to contribute to that in the most meaningful way.